LordScrubjay Wins Promitor Election with Record Turnout
· 2 min read · by: Kovus
---
Prosperous Turnip, Promitor - Promitor reported more than 100 company representives casting a vote, making this heated mudslinging event a record.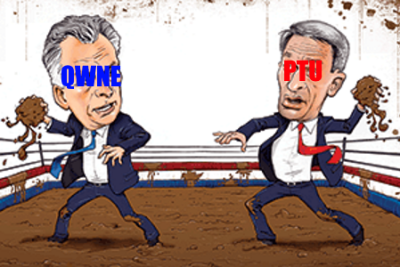 Image source: Unknown 1
Incumbant governor LordScrubjay was running neck and neck with his rival, Catfiz until the last few hours of the race. At that point, a few last minute reps cast their votes to give LordScrubjay a hard-fought victory, 57-52.
Having been an active observer and voice of reason during the election, GDP leader Prdgi is looked at as an authority figure and sort of referee on the election. During his speech at another event, an aide slipped a paper to him to suggest that he tell the attendees about the election result.
I'm proud to announce and endorse LordScrubjay for governor of Promitor. I guess that's who you all went with.
Editor's Note:
In the spirit of journalistic integrity, members of Prosperous Turnip totally, most definitely, did not accept a base on Promitor in return for a vote for LordScrubjay.2
---
Image originally from https://www.virginiabusiness.com/article/dirty-politics/ and modified. ↩︎

Theoretically, there was supposed to be a really big review of the election coming, but it turns out it's hard to make this publishing platform insert blank lines for no apparently reason. So, the requestor of that will have to settle for this review instead. ↩︎