32% of Settlers Polled Claim They Will No Longer Use Their KOM Provisions Due to Komvirus threat in CR Sector
· 2 min read · by: Saganaki
---
Due to Dr. Jacob Kom's recent discovery of the contagious pathogen, many settlers are passing on their kombucha rations (widely called KOM rations).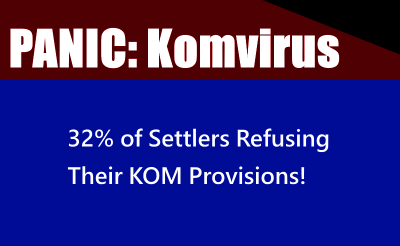 The ProsperousTurnip interviewed many of settlers for their perspectives on the matter. One GF worker from Etherwind explained:
There's no way those polls are accurate, are people really that stupid? The virus is just named after Dr. Kom, not kombucha and the guys from Boucher for pete's sake.
A worker from a PP2 on Gibson said:
Nearly 80% of KOM is produced in the CR sector. I'm just trying to keep my friends and family safe—we even cancelled our cruise vacation.
Eccentric Bobby Boucher of Boucher remarked:
While the Komvirus may or may not ruin everyone's KOM rations, we still have high quality H2O, and drinking water, of course, here on Boucher. I guarantee it!
Others, have more extreme views:
Shared Drinks Ltd currently has loads of KOM on the Promitor CX. And guess what corporation they're apart of? GDP. This is all GDP's doing. It's a conspiracy! It's all manufactured!
Regardless of the reason, companies in the CR sector and those specializing in KOM have been feeling the financial stresses. Demand for KOM has dropped 65% while other resource prices skyrocket as hoarding continues. In response, the Kombucha Union has offered 1 million ICA to Dr Kom to change his surname to Cof. The ProsperousTurnip will continue to monitor the situation as it progresses.